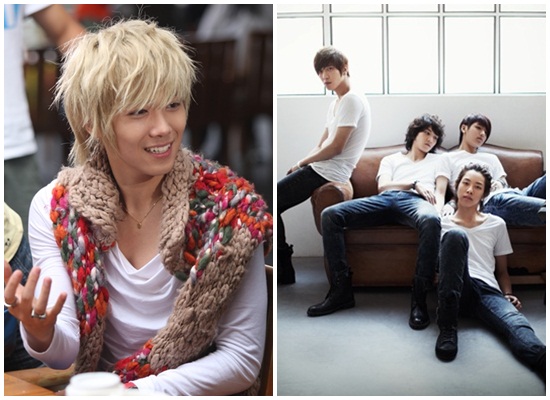 FT Island's Lee Hongki sent his heated cheer to the brother group CNBLUE.
Lee Hong Ki left a message on FT Island fan site on January 21st "I'm so happy that we have a team that does band music with us. I want to spread various music with them."
Lee Hongki and CNBLUE are a brother group that has been together since their trainee days under FNC Music. CNBLUE even appeared as a guest at FT Island's Seoul concert. Lee Hong ki is especially close with CNLBUE lead vocal Jung Yong Hwa by appearing on SBS drama 'You are beautiful' together.
FT Island members responded to the friendship by attending CNBLUE debut showcase on January 14th.
Lee Hongki, who just finished recording KBS 2TV 'Let's go Dream Team' expressed their friendship with CNBLUE by singing 'I'm a loner' while recording the show.
Lee Hongki continued to show his delight and joy for CNBLUE debut by saying, "Lately, everyday is so much fun. I've been jealous of other singers hanging out with singers under the same managment but finally!! FT Island has a family too!"
Lee Hongki also added "It's been lonely being the only band among dance groups but now! I'm so happy that we can work as a band together."
He also asked his fans to cheer for CNBLUE, "I believe that Primadonna feel the same way."
Finally Lee Hongki ended the message with "While there are only few bands lately, even though both FT Island and CNBLUE lack so much compared to sunbaes but we are working hard together to spread the band genre. So I hope Primadonna work together with CNBLUE fans too. And we'll come back with awesome music."
Meanwhile, CNBLUE is a 4 member band with Jung Yong Hwa, Lee JOng Hyun, Lee Jung Shin, and Kang Min Hyuk that has been working as an indie band in Japan before launching a successful debut in Korea. Their title song 'I'm a loner' is most noted for its bright and rythemic guitar and is ranking #1 on various music charts.
Cre: Newsen + 1takeKK@CNBLUE-SKY.net